As the world grapples with a banking crisis on the brink of chaos, the Federal Reserve (Fed) has taken drastic action to pump liquidity into the market. The initiative has led to an unexpected reaction from the crypto market, especially Bitcoin.
Amid rising interest rates and a string of bank bailouts, the Fed's balancing act between monetary tightening and easing has left many investors questioning the safety of their assets.
The banking crisis is global
In the United States, multiple banks, including Silvergate, Silicon Valley Bank, Signature Bank, and First Republic Bank, have come under tremendous pressure, requiring government or private market intervention. But the crisis was not limited to the US.
European banks such as Credit Suisse and Deutsche Bank are also struggling to keep their heads above water.
Governments and central banks around the world have intervened to mitigate the crisis and provide liquidity.
The Federal Reserve, the FDIC and other organizations have thrown "monetary bazookas" at beleaguered US banks. The move has increased the Fed's balance sheet by $400 billion in just two weeks.
In fact, this rapid increase has wiped out 64% of the progress made in quantitative tightening over the past year.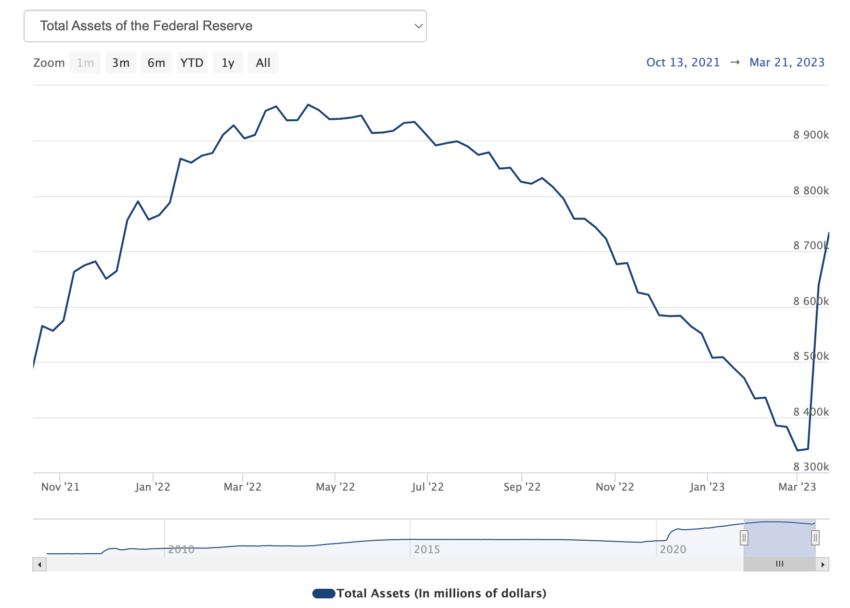 However, the market remains uncertain about the Fed's strategy. While interest rates have continued to rise, the massive liquidity injection has confused the market.
Torsten Slok, Partner and Chief Economist at Apollo, maintains that the spread between Fed Funds and interest rates on checking accounts is "the fundamental reason money is taken from bank deposits".
Slok believes this growing divergence is "highly unusual compared to past banking crises, where credit losses have typically been the source of instability."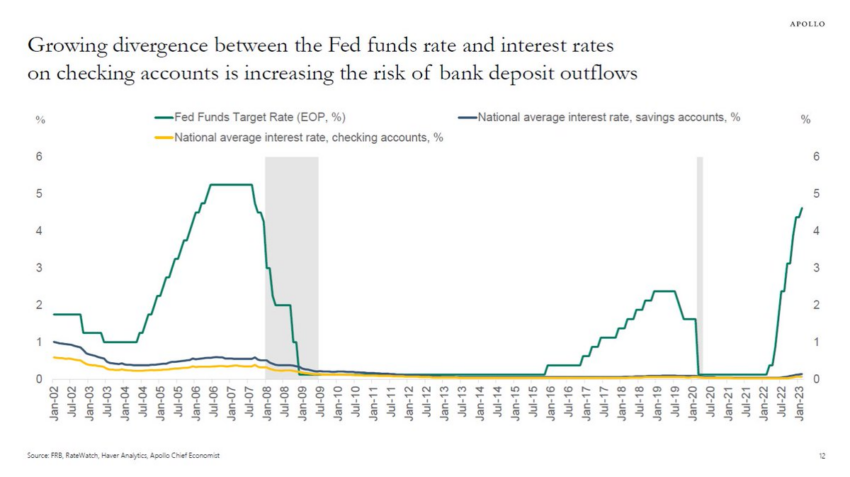 Bitcoin thrives in the midst of psychological awakening
As a result of this uncertainty, many investors have turned to alternatives such as Bitcoin, gold and real estate. Growing concerns about the security of traditional banking have led to a "psychological awakening" in the Bitcoin community.
This, coupled with the desire for higher yields, has led to an inflow of funds into money market funds and other non-deposit assets, further straining the banking system.
Economist Nouriel Roubini confirms that depositors are beginning to realize "that they can earn 4% on short-term safe T-Bills while getting close to 0% on bank deposits." This serves as a primary driver for sustained bank runs.
The era of banks taking advantage of free deposits is coming to an end, according to "Dr. Doenabout." Roubini concluded that the sensitivity of deposits to interest rate changes is increasing significantly.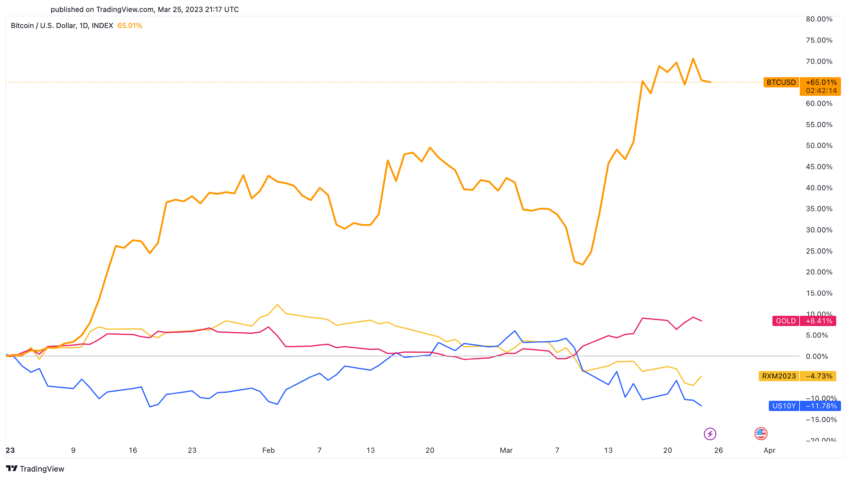 Despite the plight, experts believe the banking crisis will eventually be resolved, with governments and central banks working tirelessly to avoid bank failures, both in the US and internationally.
European Central Bank President Christine Lagarde said at a press conference after announcing a 0.5 percentage point increase in deposit rates:
"Below the baseline, the economy appears to be recovering in the coming quarters. Industrial production should pick up as supply conditions continue to improve, confidence continues to recover and companies clear large order backlogs. Rising wages and falling energy prices partly compensate for the loss of purchasing power experienced by many households as a result of high inflation. This, in turn, will support consumer spending."
Nevertheless, efforts to stabilize the system are likely to lead to other inflationary pressures and further increases in food prices.

Meanwhile, investors are increasingly diversifying their portfolios and placing their trust in alternatives such as Bitcoin. More than 4.28 million Bitcoin wallets have been created on the network, with balances of 0.1 BTC or more.
As the world continues to navigate this financial minefield, it is clear that a younger generation is more inclined to rely on software-driven solutions than human-led systems.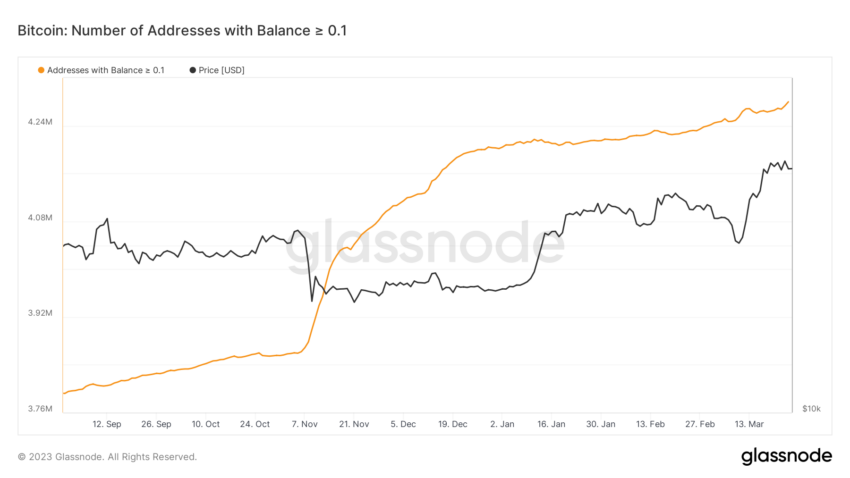 Investors should closely monitor the central bank's reactions. Similarly, developments in Europe and other affected regions may shed some light as the global banking crisis unfolds.
The continued trend of a debt-based economy and fractional reserve banking system suggests that alternative assets like Bitcoin could be the biggest winners in the long run.
disclaimer
All information on our website is published in good faith and for general information purposes only. Any action the reader takes based on the information on our website is strictly at their own risk.